Dispensing Label Printing Systems
SCOUTER ®Dispending Label System 
Model : SDLS -04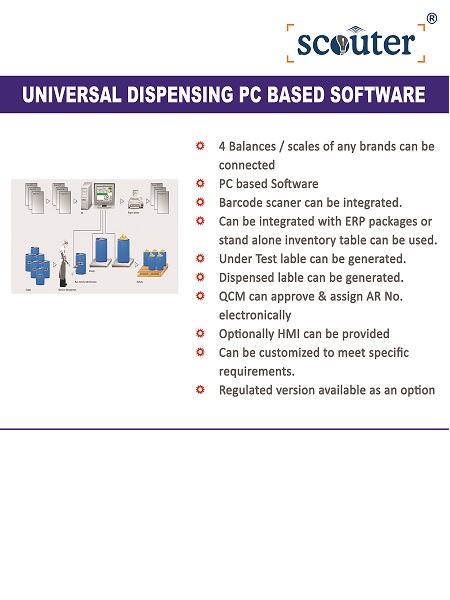 Technical Data
Display(customizable) : 7" LCD colour Touch Screen Display 
Interface Pots : 1 USB Port , 3 RS232C DB9 Connectors are available
for Scale/Balance Interface & 1 port for connecting Label Printer 
USB port may be used to connect Key Board for Data Entry
Additional Port can be provided as an option in case Barcode Scanner needs to be interfaced.
Enclosure Type : Terminal can be supplied as Wall Mount Type Or Table

Mount Type
Enclosure MOC : Stainless Steel
Please refer the above Schematic of the system.
* Sequence of Operation for Operator & Administrator are completely configurable in line with your requirement.
Including the provision of username & pass word for the Operator.
*However administrator log in is required for configuration & for making changes.
*Date & Time settings are accessible only to Administrator
* Routine Verification/Daily Calibration Function also can be integrated.
* Audit Trial Function Not Included in the Package.
* Print out Formats are configurable in line with your requirement.
* Maximum Printable Label width Maximum 100 mm, length is of your choice.
Bill of Material
1. 7" LCD Colour Touch Screen Display in SS Enclosure with Customized Program-4 No.
2. Necessary RS232C Cabling for connecting 1 balance and 6 scales
3. Qualification & Validation Documentation- 
4. Barcode /Label Printer 
Thermal Transfer Technology
Max. Print Width : 108 mm
Max. Print Length: 2286 mm 
Cable and power adaptor will not cover under warranty.
5. Opec Polyster Label:100mmX 180 mm 1 ups 1 " core labels- 500 nos.
6. Resin Ribbon:300 m X 110 mm -1 ribbon will be supplied